There's a new garden in town! It's the Mediterranean Room at the U.S. Botanic Garden, now ready for the public in the space that previously devoted to exhibiting plant discoveries. It showcases plants of the world's five "Mediterranean" regions, meaning the Mediterranean region itself plus four others that share its botanically-diverse climate – California, Chile, South Africa, and Australia. Mediterranean climates are known for their hot, dry summers and mild, wet winters.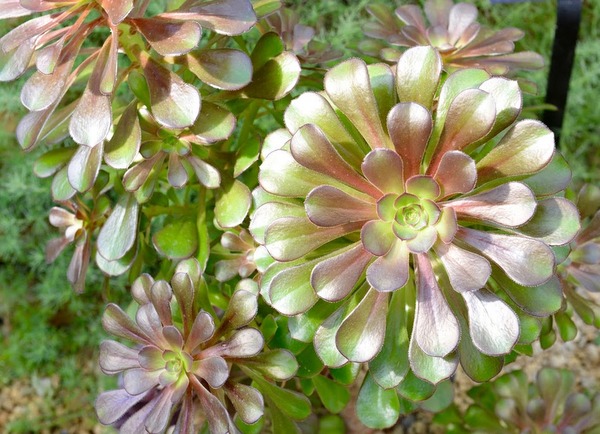 USBG executive director Ari Novy, who says he's thrilled about the new room, has a personal connection to the region, having spent time working to restore a grand garden in Southern Italy (what a gig!). Here he is examining one of the olive oils available for tasting at the press event for the new room.
So what's in the Mediterranean Room? Plants like olive, lemon, fig, pomegranate, lavender, rosemary, mandarin orange, bougainvillea, Chilean wine palm, and wine grapes.
Many of these plants are central to the Mediterranean diet, which is famously associated with myriad health benefits, including longer life spans, lower average body weights, and reduction of risks of heart disease, stroke, Parkinson's disease, Alzheimer's disease, and certain cancers.

The Mediterranean Room includes a 53-foot watercolor mural of plants and land- and seascapes from Mediterranean areas, created by the USBG's resident illustrator.
Evoking not just foods but Mediterranean gardens, as well, the new space uses brightly colored tiles on tiered steps and inside a fountain (below).
Coming soon, programs related to food, agriculture, conservation, and botany of this special part of the world, including cooking demos and special tours of the room..
Here are some of the folks responsible for the new Mediterranean Room. From left: botanical illustrator Mara Menahan, executive director Ari Novy, plant curator Bill McLaughlin, horticulturalist Adam Pyle, public affairs and exhibits specialist Devin Dotson, gardener Chelsea McKinley, and science and public programs manager Susan Pell. Photographed at the press event by Susan Harris for DC Gardens.
The U.S. Botanic Garden is open to the public, free of charge, every day of the year from 10 a.m. to 5 p.m. The Conservatory where the new Mediterranean room is located is at 100 Maryland Ave. SW, on the southwest side of the U.S. Capitol.
All other photos by Devin Dotson for the U.S. Botanic Garden. Posted by Susan Harris for DC Gardens.