Magazines
Washington Gardener Magazine has a clear vision:  To "help your Washington DC area garden grow!"  Editor/publisher Kathy Jentz also makes seed exchanges happen in the winter and brings great speakers to the Silver Garden Club.  More coming soon about what else the editor/publisher about town does to promote gardening and DC's gardens.
Books
Capital Splendor: Stunning photos and in-depth essays on more than 30 of Washington, D.C.'s gardens, some famous and other little-known gems, make this book a must-have for visitors and residents alike.  By Barbara Glickman, author, and Valerie Brown, photographer.
A Guide to Smithsonian Gardens by veteran garden writer Carole Otteson. From a reviewer on Dave's Garden:  A Guide to Smithsonian Gardens is an excellent addition to the gardener's library and a valuable tool if visiting Washington D. C. It is highly recommended for gardener or traveler."

Many other DC-area garden writers have books published, including Ruth Kassinger, Adrian Higgins, and more (coming soon).
In Local Newspapers
Long-time Washington Post garden writer Adrian Higgins is published weekly in the local section on Thursday. Also in that section is Barbara Damrosch's Cook's Garden column about growing edibles.  Both excellent.
Radio
Mike McGrath's radio show You Bet Your Garden can be heard live on the radio, or online.  A trust expert, always organic.
Movies, Videos
The one-hour documentary, 
A Community of Gardeners
, produced by local filmmaker Cintia Cabib, explores the vital role of seven community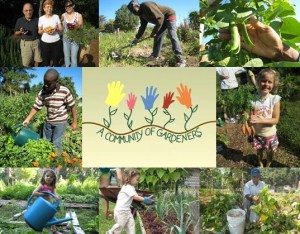 gardens in Washington, D.C. as sources of fresh, nutritious food, outdoor classrooms, places of healing, links to immigrants' native countries, centers of social interaction, and oases of beauty and calm in inner-city neighborhoods.  The film also traces the history of community gardens in the U.S., from the potato patch farms of the late 19th century, to the victory gardens of World War II, to community gardening's current renaissance.  
A Community of Gardeners
 has aired on PBS, screened at numerous venues throughout the U.S., and is available for purchase.
DC-Area Garden Blogs
Bloggers, if yours is listed without a brief description, drop a line with one (gardenersusan@gmail.com) and it'll be added.  Ditto if yours isn't listed at all!